How to Survive Canadian Winters — and Improve Your Job Search Skills in the Process
It's January, and the warm cheery sunny days of summer are long gone. Winter has officially arrived — just look out your window!
In my opinion, winter is one of the prettiest seasons. The snow hanging off the bows of trees, glistening in the sun. But let's face it: it's also bitterly cold, the days are shorter, and we get less sunlight. Add COVID-19 restrictions and the monotony of job searching to the mix, and the winter months loom ahead like a dark cloud.
So how do we overcome the hardships of lockdowns, winter job searching and cold weather blues?
The trick is having things you love to do in the winter that will give you something to look forward to. It involves getting outdoors and being active despite the weather. It also requires being part of a social community to help reduce isolation and feel the warmth that comes with connecting with others. This can all be achieved even during a lockdown.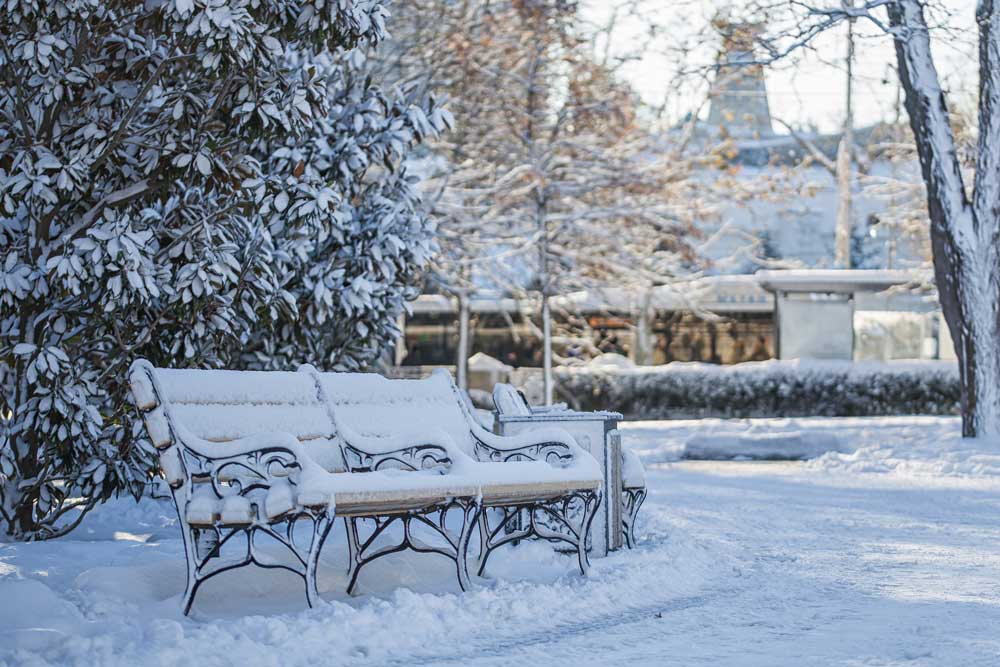 But how do we do this? I have some ideas and they come from a person who didn't grow up with winter. I grew up in Papua New Guinea (PNG), a beautiful, warm tropical paradise. This makes me uniquely positioned to offer practical suggestions for the winter months ahead.
Tip 1: Establish routines and traditions
If you are new to Canada, you will see that with every new season there is a shift in the types of activities people engage in. For example, spring means gardening or checking out the cherry blossoms in High Park. Many people also drive to cottage country in Muskoka to de-winterize their own cottages or visit friends, family or Air BNBs. 
Summer means more visits to the cottage, camping, going to the beach, picnics and summer festivals. And in the fall, there are endless autumn hikes to witness the beauty of the changing foliage.
You will also notice other shifts in behaviours. In the fall, people start to get back to business, kids go back to school, adults take a class or two, people start to watch movies more, rejoin their book club and go back to the gym. In general, they do a little more indoors and do more to further their self-development. It may seem like less fun than summer activities, but many people look forward to this time.
By winter, there are a slew of new winter activities to enjoy.
Here are some suggestions for winter routines and activities — both for fun and self-development — while you continue your job search:
Fun activities that help you build skills:
I'm a big believer in fun! Is your favourite Netflix show starting a new season? That's something to look forward to. Maybe it's time to get back into your yoga routine or start one.
Consider starting a new hobby that will give you a break from your job search and then set aside a dedicated amount of time in your day to pursue that hobby. This blogger shares some great ideas such as getting into manga, photography, jewelry making and colouring.
I like the idea of photography because the opportunity for learning is endless. You can take photos of beautiful winter scenes outside, and it allows for interaction with other people if you so choose. Then, when you are ready, you can join this photography Meetup group. 
You can also take a language class to prepare for your next vacation. I have experienced the Spanish classes at The Spanish Centre and they are great! You can also consider learning some French at Alliance Française.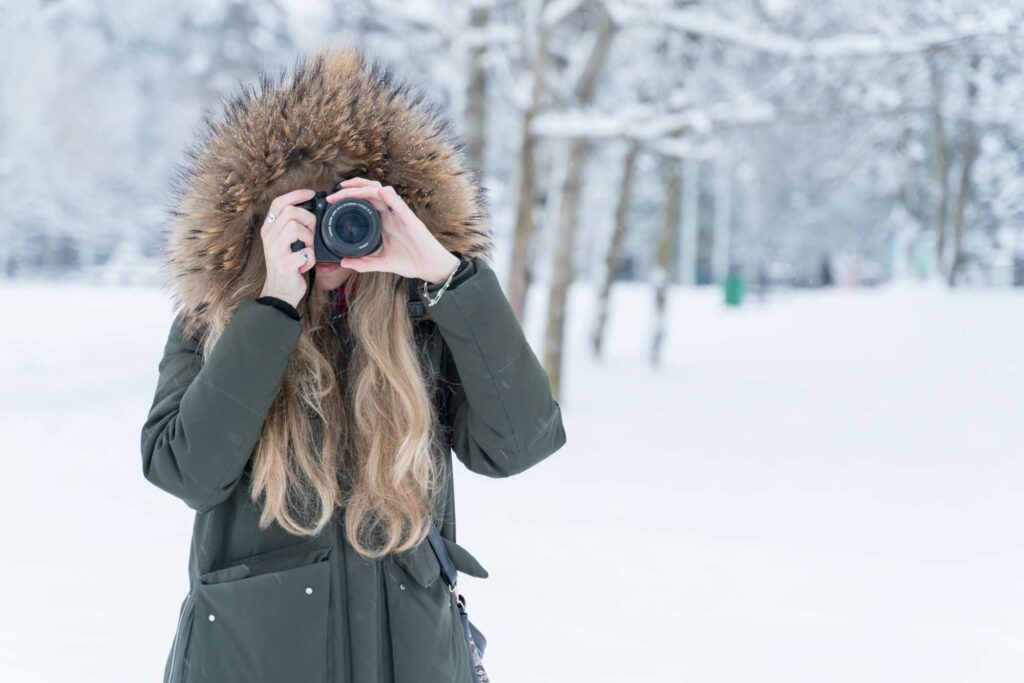 A dance class might be something you're interested in as well (there are even some virtual sessions for those who prefer to dance in the comfort of their own homes).
For self-development, consider upskilling to boost your résumé. There are some great ideas for how to "upskill" in this article by Hays. It's important not to just take any course when upskilling, but choose a course that will really further your career.
Tip 2: Take some time to enhance your job search skills
Consider what you could do differently in your job search. What methods are you using? Do you need to learn a little more about how to network, or how to job search on LinkedIn? If so, take a free webinar by The Career Foundation to improve your job search skills, or ask a friend for advice.
Are you current in the labour market trends for your chosen career or job? Are you looking to change your job goal? Take some time to re-evaluate your career goals. This easy-to-use tool will provide you with labour market trends and job prospects for select jobs.
Tip 3: If you're new to Canada, layer up!
When I returned to Canada when I was 18, I went through a period of adjustment similar to what many newcomers experience. I had to adapt to the culture and style of the people in Canada. I didn't know how many things worked here and was not prepared for the brutality of Canadian winters!
If you look out the window and it's sunny, it must be warm, right? Not in Canada. Don't make the same mistakes I did. 
Check the weather daily so you know what to wear each day. Also, check the "feels like" temperature which accounts for windchill. A windy day makes a cold day feel much colder. Then put on layers of clothing that are appropriate for the day ahead. Not sure where to start? This blog has some excellent tips!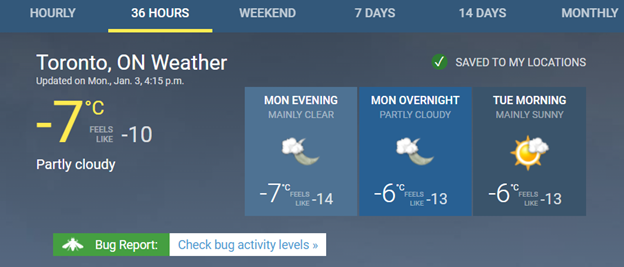 Tip 4: Get out and enjoy what winter has to offer!
Now you are ready to enjoy some fun winter activities such as hiking, ice skating, skiing, tobogganing, tubing, snowboarding and more.
There are activities for all skills and fitness levels – including family-friendly fun if you have little ones. Horseshoe Valley and Hardwood Hills offer many winter activities and are not far from Toronto. Further away, Arrowhead is great for cross-country. Put Arrowhead's Ice-Skating Trail on your bucket list. 
Of course, be sure to check any COVID restrictions before you head out to any of these places.
Snowshoeing is a fun, easy-to-learn option at these resorts. Take in the scenery and get some amazing exercise!
Another simple and safe outdoor event is a Winter Lights Festival such as the one in Niagara or at the Distillery District in Toronto.
After any winter activity, hot chocolate and donuts from a local café is always a satisfying option. Tim Horton's is a Canadian staple that I'm sure you'll enjoy!
The simplest form of outdoor activity during the winter (and a pandemic) is hiking. 
The landscape is so serene and still in winter. There is no sweating and bugs to make you uncomfortable, and it's fun traipsing through the snow. It's also so refreshing.
There is a misconception about winter that you can't hike as much. However, most trails that you would visit in warmer weather are walkable in winter with a good pair of boots.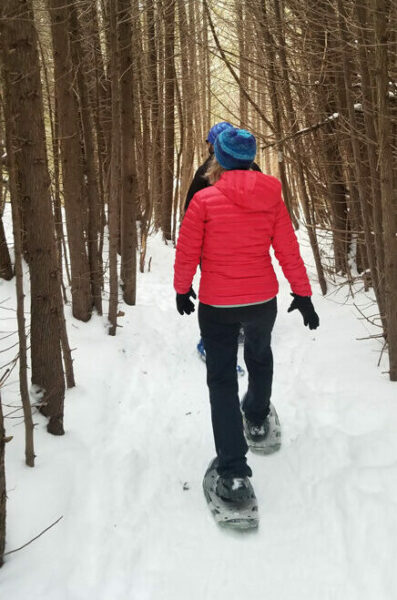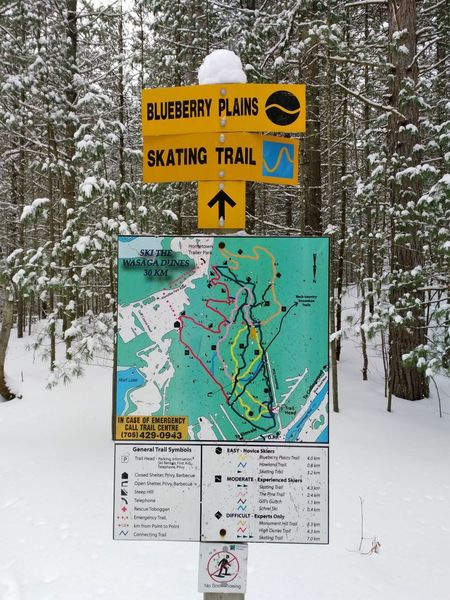 Use All Trails to find the closest trail near you, especially if you don't have a car. Then check the weather forecast and read the All Trails reviews to find out the likely condition of the trail. In deep snow you would need snowshoes; however, most trails within one hour of Toronto will not require them – although some may have ice.
To me, having Microspikes in your backpack to put over your boots is a must. MEC is a reliable source for Microspikes for all conditions and price points. They will keep you from sliding on the ice and give you the confidence to go anywhere. Trust me, I know! I'm highly prone to slipping and falling.
Toronto has many trails. The Don River Valley and Humber River Trails, as well as the Leslie Spit, are great choices for winter walking.
If you want to go further and have access to a car, this hike list in conjunction with All Trails will direct you to where to go and give you some great tips for where to park and what the conditions will be like in winter.
Tip 5: Find a community of friends who make you feel warm inside
It can be hard to make friends or find a community where you feel you belong. Whether you are new to Canada or lost touch with old friends due to life transitions, not having a social group can make the winter feel even colder. It's important to find ways to meet people, whether virtually or in-person. 
If you are a newcomer, consider connecting with people from your own cultural group for a start. They will be great to spend time with when you are feeling homesick or missing your favourite traditional foods. You might meet these people through a religious institution or a community agency.
Culturelink has some excellent events, or check out a Professional Immigrants Network, where you can meet people and build your professional network at the same time to help your career. 
You may also be hoping to meet people outside your cultural group and are wondering how you can make friends with those "elusive" Canadians. Meeting people based on sharing a common interest is a great strategy because this will transcend culture and help you meet a variety of people.
On Meetup, there are so many clubs that meet based on a wide variety of hobbies and interests! It's the number one way I have met many of my own friends. I joined mostly hiking meetups where we had lots of opportunities to chat and get to know each other in a relaxing environment. I have also joined meetups with people interested in Euchre, Spanish language, board games, books, improv, and photography.
I love Meetup because I meet a lot of diverse people. Each Meetup is different, so you need to find ones that do the things that interest you. Look for groups that make you feel welcome and comfortable – you can tell by the Meetup descriptions and whether they resonate with you.
You can even join a Toastmasters Club to connect with people and improve your public speaking skills. Many Toastmasters Clubs are operating in the virtual world right now. I have met so many people through Toastmasters. There are presentations on a variety of topics delivered by members of the club each meeting. Right away, you will have the opportunity to practise delivering a presentation using online meeting tools such as Teams or Zoom. This will certainly help you prepare for your next job or interview. Toastmasters is also a suitable place to develop your leadership skills.
Overall, winter is beloved by many! It's cozy, you get to wear comfy sweaters, and it makes you feel warm and fuzzy as you look out the window and see a blanket of snow covering the city. Plus, it can be fun (snowball fight, anyone?) But I'll admit, it takes some getting used to.
Establishing winter traditions and fun activities you like to do, getting outdoors and being active (with careful attention to the weather forecast and appropriate clothing), and finding a social community are the best ways to keep toasty warm and feel the love during the winter months.
Hopefully, these tips will help so that you can enjoy winter and then pass along your joy to others!
Rebecca Phinnemore is an Employer Services Consultant at The Career Foundation who is committed to facilitating a great match between employers who are seeking to fill their open roles, and job seekers who are looking for their next great career opportunity. 
In her spare time, her ambivert tendencies take her inside and outside. She has many hobbies including leading and planning hikes and other weekend adventures away from the city. She enjoys winter sports such as cross-country skiing, sewing, and spending time with friends over good food, a refreshing beverage and board games.